Lydford Class Yr 6

Year 6 Teacher: Mrs Boothright Spring in Lydford Class
Teaching Assistant: Ms Wood Letter Learning Grid
Welcome to Lydford Page
Lydford experienced abstract art, creating The Endurance (Shackleton's brave ship), in a fog of flour and water and paint. The results were fantastic!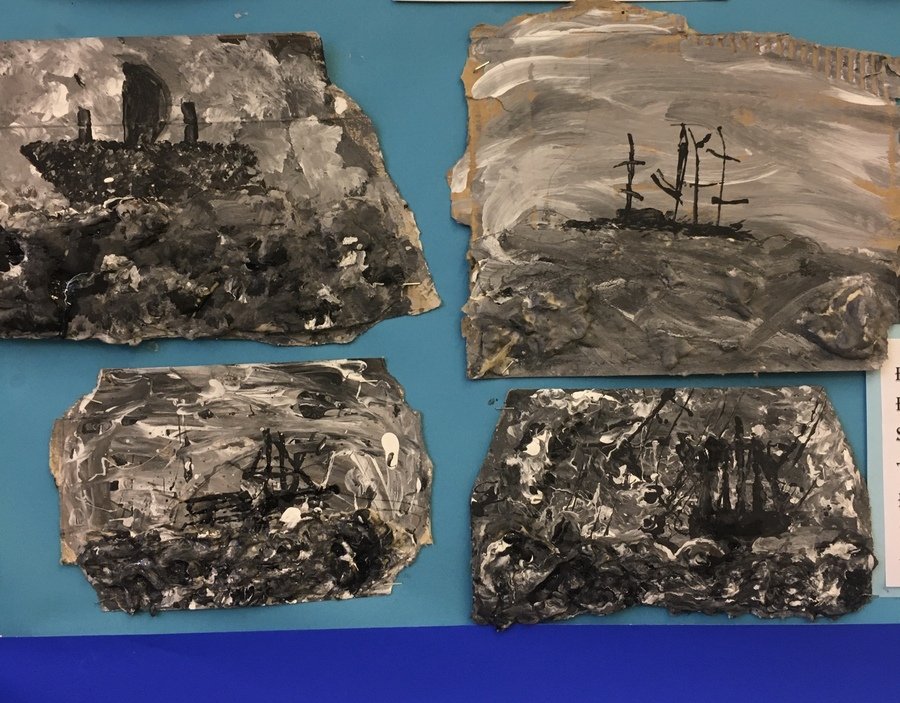 Year 6 Residential - Abernant Lake, Llanwrtyd Wells, Wales.
Arrived safe and sound - an afternoon of damp archery followed by dinner. We successfully completed the Blind/Mud trail in the dark. The children were fantastic at communicating with each other and have managed to soak through their first sets of clothes. Everyone cleaning up before snuggling down with stories for the night. Your children are a delight and having a great time.
Ms McCabe, Ms Wood & Mrs Boothright
DAY 1
DAY 2
Today we enjoyed the obstacle course because we had to go through really tight spaces by using teamwork and cooperating. We got muddy. We also liked the stand up paddle boarding because amazingly we didn't get wet and it was much easier than it looked. Canoeing was great because we played fab games like throwing balls into each other's boats to score points!
The sausage rolls and wedges are delicious. The squash is great and lovely if you mix it!!!!
The vending machine is good too! We are hoping to get more sleep tonight as we are tired especially as some people like 'a chat'!
Elsie I, Elsie C, Zennor & Mariama
Day 3
Today we have learnt to shoot rifles, it was really good because you learnt how to exactly do it, pulling the barrel and putting the pellets into the barrel safely. The obstacle course was much easier than it looked - shows you can't tell how difficult something is by looking. Climbing up the M frame made abseiling easier. The zip wire over the lake was fantastic and wasn't that scary - it was fast too. The scavenger hunt was really confusing but we solved most of the clues - we did a lot of running around. The low ropes was really fun - no one fell in the bog (no one wanted to fall in the bog!!). James was ill this morning and slept all morning but is feeling loads better and did the afternoon activities.
Today we have learnt: if it looks hard just give it go, don't judge a course by how it looks and when you abseil - trust me - don't look down.We are looking forward to getting our groove on during the disco. Mrs Boothright and Mrs McCabe will be hitting their moves!!! We're looking forward to that.
James, Wojciech, Motjaba & Euphemia.
DAY 4
After last night's fabulous disco which demonstrated some very funky and unique dance moves, we woke to a cold but beautiful day. The children have zip-wired over the lake and the activities field, abseiled, scavenged in Abernant-record-breaking time, paddle boarded and orienteered. We have all enjoyed celebrating Swathi's birthday with her and loved receiving personal from letters from Year 2 in the post - thank you Miss Raja for organising this. The children and staff were delighted and touched by their interest in our time away.
Tonight is our last evening of activities before our gathering on the landing for a final round of mind-benders and then bed. The children have slept so well and are all happy but a little tired (including their teachers!). Look forward to seeing you all tomorrow, texts will inform you of our eta.
Mrs Boothright, Ms McCabe & Ms Wood
Ranelagh & Phoenix Hockey Festival.
Year 6 were invited to The Ranelagh & Phoenix Hockey Festival. We were given mouth-guards and wore our NEW kit. Our children demonstrated great stick-work, defence and shooting skills. They returned to school with a trophy and were a credit to The School. If your children are interested in learning hockey, Ranelagh and Phoenix Club train their Juniors on a Sunday morning 9am at the University Astro pitch.
Maths
This term we are continuing our place value work through using written methods for all four operations.
The objectives we will be covering are:
multiply multi-digit numbers up to 4 digits by a two-digit whole number using the formal written method of long multiplication
divide numbers up to 4 digits by a two-digit whole number using the formal written method of long division, and interpret remainders as whole number remainders, fractions, or by rounding, as appropriate for the context
divide numbers up to 4 digits by a two-digit number using the formal written method of short division where appropriate, interpreting remainders according to the context
perform mental calculations, including with mixed operations and large numbers
identify common factors, common multiples and prime numbers
use their knowledge of the order of operations to carry out calculations involving the 4 operations
solve addition and subtraction multi-step problems in contexts, deciding which operations and methods to use and why
solve problems involving addition, subtraction, multiplication and division
use estimation to check answers to calculations and determine, in the context of a problem, an appropriate degree of accuracy
Reading
This term, we are focussing on our inference, deduction and prediction skills; we will be looking specifically at answering longer questions and understanding that we have to select evidence from the text, use the quote and explain how this supports our viewpoints.
It is essential that children are reading daily and discussing what they have read with an adult a minimum of three times a week. Their reading should now be across a wide variety of text types. Below are some suggested titles of age appropriate texts that would be beneficial for your children to read.