Community Garden Wins Award
Community Garden Wins Award
28 September 2017 (by Charlotte Woulds (cwoulds))
Erleigh Road Community Garden won the prestigious Jessica Cecil Award at the Reading in Bloom awards ceremony held at the Hilton Hotel on Monday 18 September.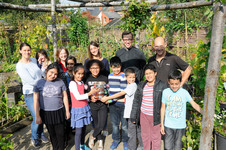 This award recognises 'outstanding contribution to Reading's environment'. The judges were very impressed with what has been achieved in an urban environment and also how the project is encouraging children to get involved with gardening.
Just three years ago the site was an overgrown tangle of bramble and buddleia behind St Lukes Parish Hall. It was cleared with help from The Conservation Volunteers and turned into a community garden, giving the Muddy Boots parents and toddlers group the chance to grow veg.
Last winter RISC's Food4Families project were called in to develop the garden to attract more of the local community.
With the valiant efforts of St Luke's Church, locals, students from Reading University and pupils at Redlands Primary School, a lovely productive space has been created – complete with fruiting trees and shrubs, herb and veg beds and a pergola draped with hops (a nod towards Reading's brewery) and a grape vine. Graeme Fancourt, the Vicar of St Luke's, is enthusiastic about the transformation. "This is now a fantastic space that gives people of all ages a deeper connection with the earth we are to care for, a better understanding of the food we eat, and inspires community with one another, turning strangers into neighbours and friends."
Garden coordinator, Naomi German, has been involved in the garden from the very beginning. "Over the last year it has been great to see so many enthusiastic children – who may have no or very limited outdoor space – explore the garden, grow fruit and veg, try things from nasturtium flowers to chillis and dig up worms! The community has worked together to create a beautiful space for everyone to enjoy and this award is a huge boost to everyone involved."
Dave Richards, Food4Families' garden designer, commented, "The garden has become an outdoor classroom for Redlands Primary School – the award is welcome recognition of our efforts to encourage children to live healthier lifestyles and learn new skills by growing their own food, but also how they can play a part in tackling the huge challenges we face in the 21st century, such as climate change and feeding the planet".
There are regular free gardening sessions under the guidance of expert gardeners and everyone is welcome to join in, regardless of their experience. (Facebook: Erleighroadcommunitygarden).
ENDS
Note: For further information contact:
Dave Richards M: 0794 705 7468 E: lpvdave@gmail.com
Food4Families, RISC, 35-39 London St, Reading RG1 5SN